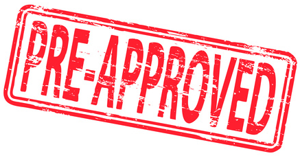 The housing market can be very competitive.  Desirable properties can have multiple offers.  Sellers and their agents don't want to waste time with buyers who don't qualify to purchase their property.  They want to see that you are serious, and have the buying power needed to make a deal.
So, how do you put your best foot forward, and show that you are a buyer to be taken seriously?
You arm yourself with a Pre-Approval Letter from a mortgage professional.
Pre-Qualification vs. Pre-Approval
These lending terms have been thrown around loosely (often interchanged), and have caused some confusion among home buyers and Realtors.
The term Pre-Qualification typically describes a conversation held between a potential borrower and a mortgage professional. This conversation might include a discussion of credit, income and possible assets of the applicant.
Under this scenario, the information is probably not being verified with documentation or research of any kind. During this initial stage, an idea or "ballpark figure" of what the potential applicant might qualify for could be discussed.
Serious buyers know that in order to have their offers considered, they'll need to be submitted with a real Pre-Approval Letter. Most mortgage professionals (myself included) will not issue a Pre-Approval Letter without examining the borrower's credit report, income documentation, and any liquid assets available.
The Pre-Approval goes one step further. The mortgage professional will calculate (based upon documentation supplied by the borrower) the maximum loan amount for which the borrower would qualify. 
I have included a sample letter here:
Sample Letter
August 26, 2012
John Borrower                                                                                                                                                                      
123 Any Street
Anywhere, MD 11111
Re:  Pre-Approval Letter
Dear Mr. Borrower,
Based upon the information supplied by you, were are pleased to inform you that you have been pre-approved for a home mortgage loan with the following details:
FHA Loan
$400,000 Loan Amount
$500,000 Sale Price
30 Year Loan Term
The final approval of your loan will be subject to:
Satisfactory Purchase Agreement
Property Appraisal
Marketable Title
Underwriting Approval
Please note that this is not a commitment to lend, and funding will not take place until your loan has received final approval.
Sincerely,
Go2MortgageGuy
The Pre-Approval Letter is then written to illustrate the borrowing power of the potential buyer. This is extremely helpful when submitting offers, as it gives the seller confidence that the buyer's deal will not fall through (due to financing).
I have personally been a part of deals that were accepted because my borrower's offer included a Pre-Approval Letter.
It should be noted that neither a Pre-Qualification nor a Pre-Approval Letter is a commitment from a lender. The loan (and its approval) would still be subject to underwriting, verifications, and the appraisal of the subject property.
What Documentation is Reviewed?
The following list will give you an idea of what will be considered when preparing your letter:
Credit Report
Paystubs
W-2s
Tax Returns
Bank Statements (checking, savings, investment)
From this information,  your mortgage professional can accurately calculate your housing and total debt to income ratio. 
This will determine how much loan you will qualify for, and how much house you can afford to buy.
Knowing these facts before you set out to house hunt, will give you confidence, and help you to avoid looking at the wrong properties.